Brights
Bring on the Brights!
As I mentioned in the blog from last week, there would be a ying and a yang between last week (neutrals)
and this week (brights). I really do love the richness of varying shades of nudes, but because I can never
seem to limit myself to one style or trend I personally gravitate towards an eclectic wardrobe.
As the power clash of colors from winter moves quickly into spring... go bold! Everyone knows that things
like color and florals work well in the spring and the warmer months to come but how you wear them can
be updated, fresh and new. Just as I suggested you mix your neutrals, I will say the same to you now with
vibrant hues whether solid or print.
There are two great ways to mesh shades together: one is monochromatic, and the other is a mishmash of
colors. For monochromatic, take a color you like, any color, and use varying shades of that color to create your
look. Take a fuchsia pant, with a blush pink top and a magenta heel. For blue maybe you have a royal blue knit
with a metallic navy skirt and a turquoise heel. Beyond mixing the colors together mix your fabrics. Fabrics create
such a richness to your outfit. So adding colors that play off of light such as leather, patent, metallic, silk and so
on with knits, denim, cotton etc add even more depth to your ensemble. With creating a mishmash look try and
stay focused here as you don't want to get dressed, look in the mirror and realize you are Rainbow Bright's twin.
So be careful in how you culminate your colors. Once again pick a shade you like, perhaps marigold and think
what you can pair with this color that will pop and compliment the shade. So, if you choose marigold maybe you
want to mix French blue and add a pop of fuchsia in the shoe. Or you can mix that luscious shade with a great
lavender and add a fun touch turquoise in a bold necklace or belt.
I will reiterate what I said last week about laying the pieces out before you begin getting dressed, to save yourself
the dressing and undressing routine, to see what colors and fabrics mix and match well together. Once you have
found something you are happy with then get dressed and lastly accessorize.

I do want to say that if mixing colors is a bit out of your comfort zone add the pop in your accessories; it feels
safer and more manageable. So, the example here would be if you wear a fuchsia dress maybe wear a red
shoe and a marigold earring. You are still mixing your colors and achieving the trend without going as bold as
mixing these shades within the clothing. Another way to play it a little safer is by using more neutrals with your
accessories. So again, if we take an example of a tangerine blouse pair it with a metallic navy skirt, white booties
and a leopard belt. Adding white, leopard, camel and navy will allow you to mix colors and prints in a more
conservative way.
So, I have a challenge for you and that is to step slightly out of your comfort zone OR jump in the deep end
altogether and be daring and bold with your color choices for spring. Mix your hues and your prints in exciting
and fun ways to give your wardrobe a breath of fresh air!
XO Tamara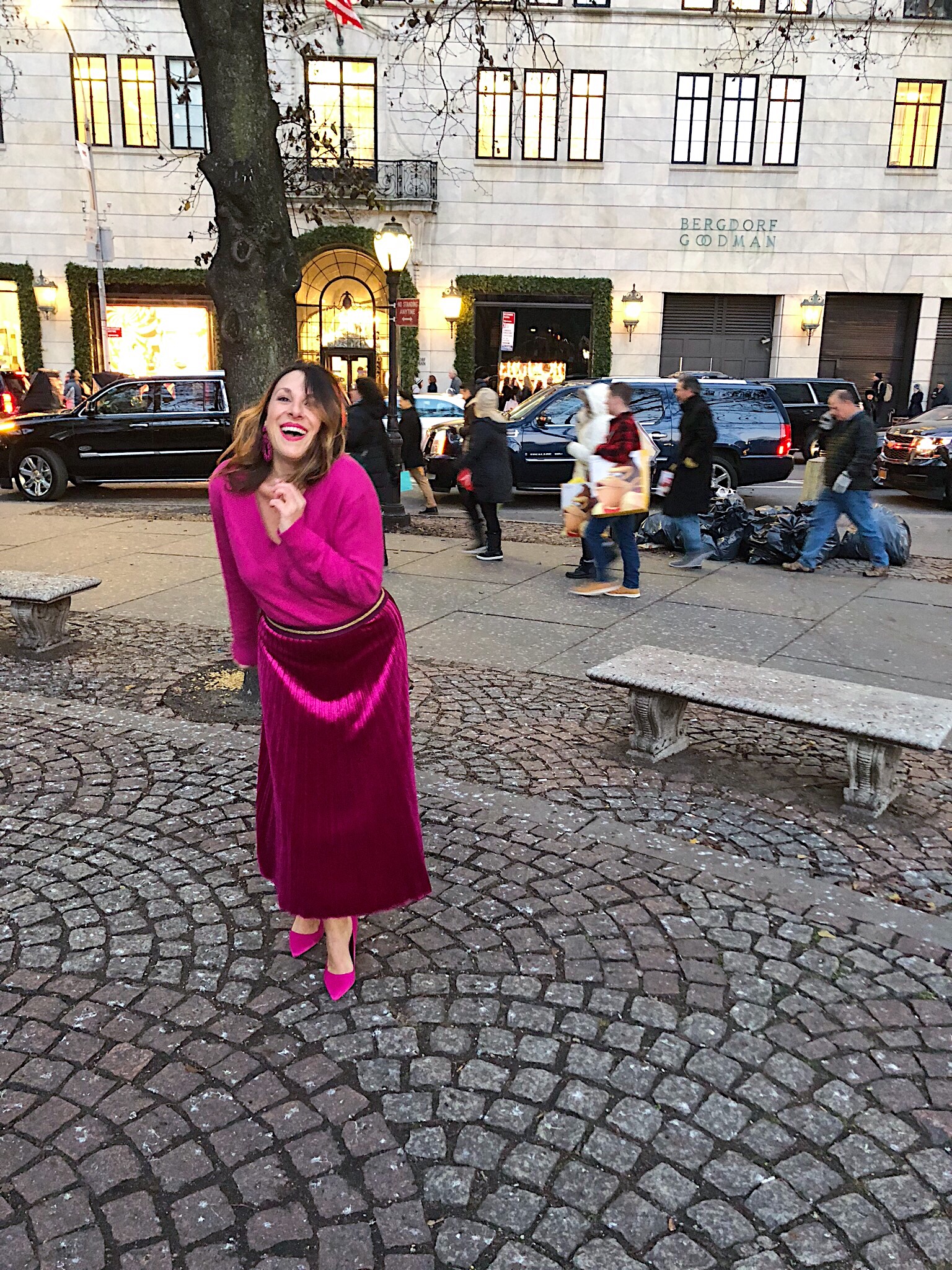 the monochromatic color trend